November 5, 2003 - Its another chance to wake up after a long hybernation. Our website went stagnant for almost 9 months. Just Like preparing to give birth, we are now on the process of revitalizing our interactive website by doing updates regularly and reviving a dead mailing list. Our new mailing list is now hosted by the oh-so-popular Yahoo groups. If you haven't signed in yet, now is your chance! Enter your email address in the box below.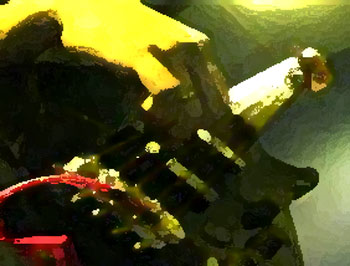 We still need much more support from other bassists. We are currently open to ads (related to the Filipino bassist please!) for free! You can even post anything you want to promote: bookings for your band, jobs, items for sale, your home recorded-personally produced solo bass album, your small business coz you can't survive with the meager budget of every gig, girlfirends, a fan club manager, etc. You can either post it in our mailing list, or in our message board. If you feel you need more attention and you have graphics to go with your ad, email the webmaster! Please help us develop our website.


No Pain, No Gain? - OUCH!!!
Ever heared of tendonitis? This is becoming a problem to an increasing number of guitarist especially bassist who needs to push harder on the thick strings compared to guitarist. Tendons on our hands are very delicate. They give us the ease in order to control our speed, dynamics and precise positioning to form our notes on the bass frets. The muscles in the hands must not be taken for granted. Playing hurt can be dangerous. Take injuries very seriously - especially hand injuries. We have to realize what our finger are doing and create a way to make it work better - that is without pain, at ease and with maximum power to our bass playing. We have to be students of movement. Musicians are so highly motivated to play that they will ignore pain, over-practice and find ways to compensate. The "no pain, no gain" school of practicing has hurt more people than it's helped. Remember, relaxation is the most important physical skill in playing music!



Typical Role Of The Bassist
A bass player's job is to lay down a strong foundation with a steady rhythmic pulse and a tasteful dose of harmony and melodic counterpoint. The bassist is the "glue" between the drums and the melodic voice and it's chordal accompaniment.



News Tidbits
These are stacatto news heared here and there. Some are rumours some are facts. They are listed here just to let you know, its been the talk of the town. Here we go: * * * Slide finally bid its audience a nice farewell. After several years of alternative rocking, that band called it quits. Done (bassist) is now working a day job along with drummer brian. Guitarist Ivan and singer Jay is now with the band 8 inches* * * halflifehalfdeath is one band that has suffered several losses in recent years. First to leave was pet who moved to europe, then drummer moved to the US. Recently it was frontman alfie who migrated to canada. Rising from what's left of the band came in drummer bebet and guitarist/vocalist aldrin from alfie's other band dream kitchen joining the remaining members: ramil and rain. Employing a femme singer in the name of Kathy, the halves are back again this time with the new name "Superkat and the pussyboys". Catch them perform in the monthly new wave get together at mayrics called "Back to the Edge". * * * Watch out! Limp Bisquit will be in manila on December 9 * * * Sonny Azurin, a favourite session bassist left the country for good (migrated to canada). New faces would probably be seen soon to take his place * * * Rumours are out that a compilation album of solo efforts by local session bassist is in the works. If this is true, the basspage would definitely be at hand to be part of. * * * Imported bass gears are getting expensive recently especially as the dollar-peso relationships goes sour again. Less expensive asian made basses are fast becoming popular from among the circuits. * * * That all the stacatto we could muster for this month folks. Catch us again next time. You may be the talk of the town!



Protect Your Rights As Musician
As a professional musician and a Filipino bassist you are invited to join the Asosasyon ng Musikong Pilipino (AMP) - an organization dedicated to the protection and upliftment of the Filipino musician. The organization will educate you further with your rights as musician and help you with any issues involve with it. Links to advance master classes are also offered by AMP as well as discounts on selected items in selected stores. You can visit the AMP website at www.amp.org.ph.



email: guitarhospital@yahoo.com
Tel. 742-6343

VYNV Pro Lights & Sounds

for birthdays, debuts, miniconcert, seminars, weddings, etc.
Rentals of mobile, PA system, lights, band equiptments.
we also have band performers for any occassion.
Pls call: 916-2659
or 0917-4953002

GTA PRINTHOUSE


Desktop, publishing, concept & design, printing.
email: praymo99@yahoo.com
Or call 7365873

Support the indie spirit. Visit the

AROIN SOUNDS & LIGHTS
contact Miyo Arellano
714-5571

---

BUTCH DORMITORIO
Makers of Guitar & Keyboards
Soft Cases & Bags

64 C Jose Street
Malibay, Pasay City
Tel: 854-2342
0920-7024445